Outdoor swimming pool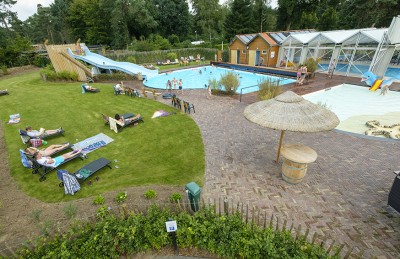 Our outside pool has a big basin; 16 meters long ,13 meters wide and 1,40 meters deep. This pool has a big family slide! Next to this pool there's a childerens pool: 8 meters long and wide, 10 - 40 centimeters deep. The outdoor pool is warmed up to 25°C.
Both of our swimming pools are only accesible for our own guests and not for their visitors (not even on payment!)
Indoor swimming pool
Our indoor swimming pool is smaller than the outdoor pool, but you can still have a nice swim! The family bath is 5 meters wide, 10 meters long and 1,20 meters deep. There is a seperate bath for toddlers. The roof can be openend when it's warm outside. The temperature of the familybath is a constant 28°C, the toddler bath is a constant 30°C. The temperature in the hall is also 30°C.
Do you want to book for a period longer than 3 weeks? Contact in that case the camping itself directly by phone or email.